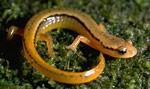 We often speak about our high school research program, the Wildlife Technician Program, but MRG also supports, advises, and coordinates with graduate students doing research on urban/suburban ecology.
Since 2007, with support from AE Family Foundation, MRG has offered grants to graduate students exploring questions in the fields of conservation, wildlife management, forest ecology, and applied ecology. Students in the Research Assistantship Program (RAP) also mentor high school students in the WTP and help supervise CISE interns.
MRG staff also support or advise graduate students more informally; for example, by serving on academic committees or as advisors, partnering on larger projects, or helping with data analysis.
This spring two Ph.D. students from Jason Munshi-South's lab at Fordham University (nycevolution.org) completed their research. Nicole Fusco studied the genetic connectivity of salamanders in urban, suburban, and rural watersheds, including the Mianus Watershed. She also developed eDNA techniques to non-invasively sample salamanders in streams. Nicole found that connectivity among salamanders in different streams declined with urbanization, and large roads hindered connectivity regardless of landscape type.
Carol Henger, a member of the Gotham Coyote Project, studied the population genetics and diet of coyotes that live in NYC Parks. Carol found that nearly all the coyotes in NYC were members of a multi-generational extended family, with the northernmost parks in the Bronx being colonized first, and the population expanding southward one greenspace at a time over several generations. MRG supported Carol by collecting scats for her dataset and advising her on the status and distribution of coyotes in NYC.