Creating Forest Islands
Mianus River Gorge adheres to a forest management plan informed by applied forest ecology and management research and shared best practices. MRG's plan combines the natural process of succession, removal of invasive plants and vines, an intervention plan to eradicate the hemlock woolly adelgid, and a tree-planting strategy that creates islands of trees in the newer, post-agricultural forest.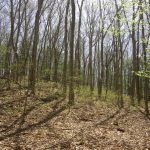 Mianus River Gorge will plant islands of trees in the post-agricultural forest of the Gorge and elsewhere. As these tree islands grow they seed in around themselves, colonizing naturally, and help restore the entire forest more quickly.
Using a combination of practices that work in parallel is especially important to apply in the post-agricultural forest in the Gorge and throughout the State. The forests suffer from huge health problems due to their use for grazing and farming years ago. Today, the post-agricultural forest that has grown in is even-aged, less diverse, and is susceptible to invasion by non-native species. The forest does not do a very good job of sequestering carbon or providing other ecosystem services that most healthy forests do, including protecting water quality.
Planting islands of trees would speed up the recovery of this area by adding diversity and would replace trees being lost to newly introduced forest diseases and non-native species like the emerald ash borer. Unfortunately, some areas will have huge die-offs in the next few years as the borer kills ash trees, reducing the tree cover and opening the canopy. This will lead to a massive expansion of non-native species like barberry and others which hamper native forest growth.
Together, these forest restoration practices are intended to hasten the recovery of degraded, formerly forested land to improve carbon storage, restore biodiversity, enhance soil nutrients upon which the forest depends, and slow the ravages of climate change.
Stewardship & Land Management News
Click here for a list of all previous Stewardship & Land Management News.